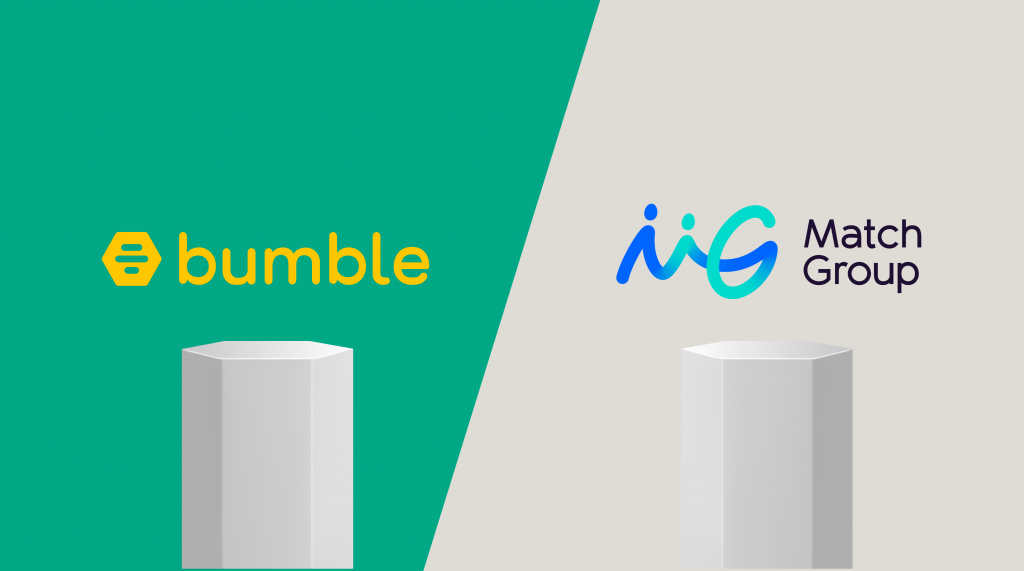 This is an exclusive Bamboo newsletter. If you would like access to this newsletter every month, download the Bamboo app and make a deposit into your account.
For the last few months, Stock of the Month picks have drifted towards the conservative side. This is a rational reaction to the eye-watering sell-off tech has experienced in the last two years and the harsh macroeconomic conditions of late. Businesses and consumers are cutting back so it's best to spend a few months topping up bedrock positions and large-cap staples than looking for the next sub-$1 billion magicians.
That being said, between the microcaps and Apple there are some exciting businesses that are worth revisiting in light of valuation corrections and guidance clarity.
Two of these businesses are Match Group and Bumble, the king and queen of online dating. Both spent the beginning of 2022 in the gutter as users cut back on premium memberships in the name of rent, utilities, and eggs. However, as conditions have stabilized and some panic has subsided, these two powerhouses have potential, especially if you're a long-term investor with a healthy appetite for risk.
Understand the Race
Online dating is clearly here to stay and more and more individuals are willing to pay for the privilege. By 2027, it is estimated that there will be 440 million people across the globe seeking love through online platforms, fueling a 13% compound annual growth rate (CAGR). But, when it comes to the business side of things, it's best to split the market by geographic location.
In the United States, things are already hotly contested and the race moving forward is less about user acquisition and more about effective monetization and product offerings. Roughly 32% of the U.S. addressable single population uses online dating and 26% of that group pays for it either through a subscription or a la carte purchase. When it comes to young Americans this number is even more striking, 53% of 18 to 29-year-olds have used a dating site, up from 48% in 2019. But, According to Morgan Stanley, due to slowing single population growth and high market penetration, "user growth will likely contribute only 3% of industry revenue growth from 2022 to 2030 in the United States".
Meaning, executing a premium product in North America just got all the more important.
Outside of this region, the field is far more open. Regional talent has managed to lock up cultural niches that require their own, customized app. Think Harmonica, the small Egyptian dating app focused on the Muslim market that Match Group acquired in 2019. However, that doesn't mean an outside app can't make waves. At least, that's what Bumble and Tinder (the crown jewel of Match Group, representing 56% of revenue) are trying to prove.
Since its IPO, Bumble has spent millions adjusting its app for regional needs. Its women-first approach went well in the United States but needed extra safety measures and different marketing for India and Mexico. Tinder, on the other hand, relied on its first-mover advantage and simplistic, to-the-point design and pushed into new territories quickly. Today, the apps' international presence and growth strategies look very different.
Tinder has pretty much reached every market that will take it and that means 90% of the app's paying users come from outside North America. In the case of Bumble, that number is only 50%. However, Bumble has only conducted launches in India, a number of Western European countries, and swathes of Central America meaning there is plenty of territories left to conquer.
Pick Your Fighter
Bumble and Match are both stocks worth keeping an eye on, especially with the current market downturn. The pair is currently trading at a price-to-sales ratio of 3.5, well below the tech sector average of 5. However, if you have to pick one, I'm going with the company that boasts the following make-up:
It controls the most popular paid dating app in the United States
Has plenty of upcoming international expansion
Consistently grows its key metrics even in difficult conditions
And most importantly for the short-term: a central app that has yet to reach market saturation.
As of this moment, that's Bumble.
Just as a reminder, both Bumble and Match Group own multiple dating apps but are disproportionately reliant upon a single entity for growth. Bumble is dependent upon its namesake app for 77% of revenue while Match has Tinder. It's worth noting though, that Match does have a much larger suite of businesses, controlling names like OkCupid, Pairs, Plenty Of Fish, Azar, Hakuna, and fast-growing Hinge which should be considered Bumble's most similar competition.
However, while this diversity provides the illusion of strength, in actuality it has the classic conglomerate problem where a single, hyper-preforming asset has its growth diluted by its aging, bloated siblings. Hinge saw its revenue jump more than 30% year-over-year in 2022 and yet Match's overall revenue declined 2% with Tinder's revenue laying flat. Bumble's app, on the other hand, saw revenue jump 31.4% year-over-year with overall company revenue increasing by 18.7%.
Yes, some of this difference is down to currency impacts and Match's exposure to international markets. But even on a currency-consistent basis, overall revenue was only up 5% for 2022, compared to Bumble's which was up 24% on a currency-consistent basis. When looking at forward-looking guidance, this dynamic is replicated. Match expects revenue to increase by 5 to 10% in 2023 while Bumble expects growth between 16 and 19%.
Bumble Quarterly KPIs
Match Group's Quarterly KPIs
Bumble Along
Bumble now claims the title of the most popular paid dating app in the United States. This may be due to the fact that Bumble has the highest Net Promoter Score (NPS) with the 18 to 29 and 30- to 44-year-old segment in the U.S. dating market. Or, the fact that its women-first approach has helped address one of the biggest flaws in heterosexual, online dating: the gender gap.
Long-term dating app users are likely aware that there are often far more men than women. This creates an imbalance in the ecosystem that leaves the central product hollow for users who could be contributing revenue. It is estimated that Tinder is more than 75% male and Hinge is 64% male, but Bumble has managed to get this figure down to 57%. That means users are more likely to achieve matches, making Bumble more worthwhile in the eyes of the public.
Clearly, Bumble users are willing to spend more for the app's advantages. In their latest quarter, Bumble brought in $23.03 per payee while Match brought in $16.00.
Bumble is also attempting to build out Bumble BFF, a feature that could save the app from becoming obsolete when its users meet a longtime partner and no longer need a dating app. BFF helps adults make new friends by matching individuals with similar interests in their area. I could see this service becoming more and more popular in the post-pandemic world with increasing levels of loneliness. According to management, 15% of Bumble users have also used BFF. That being said, this is merely a footnote in the business's financial story. It is estimated Bumble BFF accounts for less than 1% of the company's revenue. But, management hopes to build out this figure between now and 2026 through the use of feature releases and improved marketing. Bumble certainly has the brand recognition to give this potential.
When it comes to the international market, Bumble seems excited and its thoughtful expansion appears to be working. The app launched in Germany in late 2022 and has already become the second most popular; last quarter it was making significant headway toward the number one spot. It also gained download share in Austria, France, Switzerland, Belgium, and the Netherlands. In the same quarter, users and revenue from India doubled year-over-year.
That being said, while Bumble builds out its base, it still has 23% of its revenue coming in from Badoo, the legacy dating player popular in parts of Europe and South America. While the aging juggernaut might not be nearly as popular as before, its decline seems to be gradual, rather than hasty, allowing Bumble time to replace it with its namesake app and keep overall company revenue on the up and up. Badoo remains the second most popular dating app in France and Spain, giving Bumble a unique insight into the markets it's attempting to capture. There is also potential to upsell Badoo users to Bumble as the app achieves greater average revenue per user (ARPU).
Additionally, Bumble has taken a page from Match Group in recent quarters and begun building out its own app portfolio, acquiring Fruitz, a French dating app making waves with Gen Z. It's very much a developing story, having only been downloaded 5.6 million times at the time of acquisition, but its focus on casual relationships and the young 20s demographic make it an asset worth having.
Risks
Acquiring any stock in the dating sphere comes with risks. Dating apps seem to fall in and out of fashion faster than any trend I've ever seen before. Attracting and maintaining users is paramount to success and revenue generation. Any investor looking to grab a piece of this industry should be prepared to keep a keen eye on the space to ensure their chosen asset is continuing to evolve in these changing times. This could mean making smart acquisitions, adding key features, offloading underperforming assets, or moving into new regions. Match and Bumble are not stocks for investors hoping to take the next ten years off.
On top of this, while Bumble is the winner when it comes to revenue and user acquisition, it still underperforms Match when it comes to profitability. Bumble struggled to generate cash in 2022 as it remained in growth mode but should return to consistent profitability in 2023. Bumble also lacks the cash that behemoth Match has with only $400 million on hand meaning it's less equipped to buy up its competition. That being said, Bumble also carries far less debt than Match at just $600 million, compared to $3.8 billion, making it a bit better positioned for this age of rising interest rates.
Finally, while Bumble and Match are clearly distinct on a quantitative level, their fates within the public market are frequently intertwined. Match delivers earnings first and this can often put a dampener on Bumble, even if the smaller player is shining. The companies will have to further differentiate themselves in the eyes of analysts and investors for Bumble to truly stand out. This may take a couple more quarters of outperformance.